PLC + HMI together in one unique platform, sharing the same tag database.
No other PC-based solution will make you so independent.

Movicon™ 11 has become even more complete than ever to satisfy the most demanding requirements of any modern business enterprise operating in the world of industrial and civil automation.

The dream to integrate every design engineer need in a one-only platform has finally come true and today is a reality achieved with Movicon™ 11. You only need to use just this one product to realize both PLC and Scada/HMI projects. By integrating Movicon™ 11 in your enterprise will save you considerable time by being able to share tags and integrated management in the one same workspace. One unique software system to provide a range of PLC + HMI integrated solutions whether for Windows™ Vista/XP or Windows™ CE.





Logicon is Progea's proposal in the field of SoftLogic, and is the result of active collaboration with the German KW-Software. Progea has chosen a market leader company for integrating its SoffPLC product in in Movicon™ 11, with already thoroughly tested solutions by partners Phoenix Contact. Due to these two companies working together, Movicon™ 11 integrates the powerful MultiProg© programming environment, PLC program editor which supports all the five IEC 61131-3 standard languages. Programming is now possible in FBD, IL, Ladder. ST and SFC languages indifferently and in mixed programming.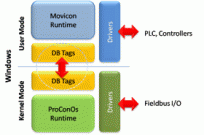 Integrating two programming environments and the automatic tag synchronizing has made complete PC-based automation project creating easier and safer.
SoftLogic projects can use the benefits which Movicon™11 has to offer, such as importing existing PLC databases (ie. Simatic S7, Rockwell, etc.) or items from any OPC Server, and dispose Tag lists automatically in the two Scada and SofLogic environments. The two integrated systems are shared and connected automatically to the SoftPLC ProConOs runtime for direct, efficient and communication performances.
The SoftPLC runtime, available both for Windows™ Vista/XP and Windows™ CE, is executed within a Windows™ "kernel real-time" to guarantee realtime performances and independency from the OS.
The ProConOs runtime communicated with the field I/O directly using Modbu TCP, Profibus, ProfiNet, Interbus, CanBus, DeviceNet.
All the potentialities of the modern and reliable SoftLogic product have been integrated to guarantee powerful developer tool usages, such as the Cross Reference, Logic Analyzer, Debugging Step-to-Step, On-Line Modifying, Simulator, distributed project designing in net, Wizards, Documentation, Archives.