Movicon CE is a runtime engine for Windows CE that offers HMI solutions powerful and open. Just one development platform and your Movicon XML projects can be run on Win32, Win64 or WinCE indifferently.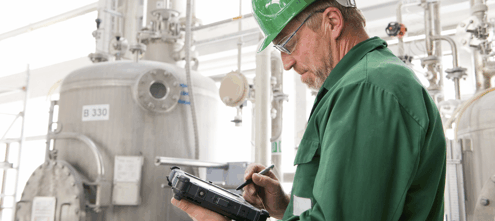 Movicon™ CE is the most powerful HMI platform avialable for Windows™ CE today, wholly capable of satifisying your every need in visualization and control in a compact environment without forgoing the potentiality of the Scada system.

Movicon™ CE is a runtime engine with runs the same Movicon™ 11 XML projects.
Your projects can therefore be run on your HMI device, in operator terminals, PDA, Palmtop PCs, Smartphones, mobile and Wireless Systems (Pocket PC and HPC2000), autonomously and independently, without needing client stations and other applications. In fact, your WinCE device can be the Server or Web Server itself, to other client stations. Movicon™ CE, installed on your WinCE device will therefore run projects created by your Movicon™11 platform: one project only, the same file, run on different platforms all made possible by the project's XML structure. This means much greater management simplicity, significant reductions in maintenance costs and maximum information transparency.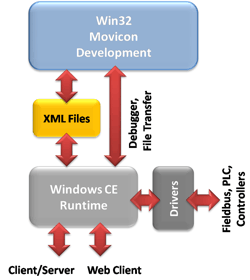 XML based Projects
In terms of costs, having all you need in just one programming environment to develop your projects, means you save. And not only, the Movicon™ 11 XML structured projects allow you to run the same project file both in Windows™ Vista/XP and WinCE, without having to be compiled.
Movicon™11 consents uploading and downloading of projects from and to devices, and remote debugging of projects run locally on the device.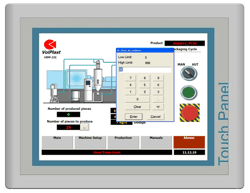 Applications
Movicon™ CE provides you with the possibility to create compact and powerful HMI visualization systems. Movicon™ CE can be deployed in HMI system based on small and compact Touch Screens, based on Windows CE 5.0 or 6.0. For instance, Movicon™ CE is the HMI software for 320x240 color Touch Panels (1/4 of VGA) but can also be scaled in grey, up to high-grading terminals with 6", 8" 10" monitors and superior. Other typical Movicon™ CE applications have been deployed onboard mobile and wireless systems (PocketPC such like), both as supervision Client stations and 'stand alone' mobile applications.
All due to Movicon™ CE, the operator terminal becomes a small Scada station, offering independency from hardware, network connectivity with superior information systems (Scada, MES managerial) enhancing onboard machine potentiality.


Movicon is a Progea registered trademark and all rights are reserved.

Movicon is certified as "Designed for Windows XP" by Microsoft and is tested and certified by OPC Foundation.